"Exercise is king. Nutrition is queen. Together they make a Kingdom."
Jack Lalane
You know it's good for you, but when you're done with this read you'll want more of it.
What's the dose?
Perhaps the most empowering way to relate to exercise is to dose it daily like medication. One that makes you smarter, makes you look and feel younger, reduces the risk of the most common killers such as heart attacks, strokes, cancer and neuro-degenerative diseases. It also makes you more productive and yes even increases income.
From the World Health Organization (WHO) website the amount of recommend exercise dosing is as follows:
"Adults aged 18–64 should do at least 150 minutes of moderate-intensity aerobic physical activity throughout the week or do at least 75 minutes of vigorous-intensity aerobic physical activity throughout the week or an equivalent combination of moderate- and vigorous-intensity activity.
Aerobic activity should be performed in bouts of at least 10 minutes duration.

For additional health benefits, adults should increase their moderate-intensity aerobic physical activity to 300 minutes per week, or engage in 150 minutes of vigorous-intensity aerobic physical activity per week, or an equivalent combination of moderate- and vigorous-intensity activity.

Muscle-strengthening activities should be done involving major muscle groups on 2 or more days a week."The biggest shift in these guidelines is the increase in duration and intensity. The graph below shows why intensity and duration are so important:

Journal of the American College of Cardiology Volume 64, Issue 5, August 2014
Whose Getting It?
According the WHO only 22% of women and 18% of men are getting the recommended amount of exercise. It's unnatural for most humans to be sedentary. A fundamental principle of mammals is that they move. Movement is critical for us to reach our potential. We as a species no longer move to hunt, gather food, seek a mate, avoid predators, explore or to simply play as much as we did for eons. We've created a world that has eliminated adequate movement from our daily lives and this has gradually undermined our potential.
Selling It All Wrong
Doctors are not taught that exercise is medicine, how to dose it or help someone buy into it. Selling something they don't get paid for, not knowing how to do it and not having adequate time to do it is frustrating for docs. Most will finally resort to the "F & S" tactic- aka "Fear and Shame." This strategy doesn't produce sustainable results and doesn't make a patient feel good about themselves. People respond positively to support.
A physician can want the best for his or her patients but the patient must decide for themselves. The word "decide" has two components: "de" which means "to come away from", and "cide" which means to 'kill.' The person must "step away from" and choose to "kill" their sedentary life. Acknowledging it, and helping someone channel their inner gladiator of health during this sentinel moment is key. The data clearly shows that support is a critical factor in helping someone change.
Fear and shame also doesn't work because adrenal glands are made for dealing with an acute fight or flight situation. We need to get out of the business of escaping saber tooth tigers and set a comfortable and smart pace for the long run. Running towards a better life that increases vitality, energy, productivity, accomplishment and intelligence is a superior strategy. Exercise moves you towards a physical, cognitive and emotional state that brings pleasure and abundance. It prepares and creates opportunity. If something is enjoyable and brings meaning to your life then will become sustainable. I want your reason to exercise to be about what it gives you and not about fear or humiliation.
Get Smart and Feel It
When we exercise profound changes take place within our bodies. Almost every chronic disease improves. Cholesterol, blood pressure and blood sugars all improve and that's important but you don't feel these changes. What makes exercise sustainable is when you feel and know what it does for your brain. When we can measure the effect it confirms your efforts.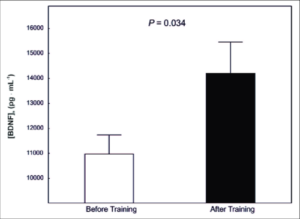 So what happens to your brain with aerobic exercise? First, your mood improves and you get smarter. Research has demonstrated that vocabulary learning is 20% faster after aerobic activity. How does this happen? First, you focus better after exercise. Second, levels of a substance known as Brain Derived Neurotrophic Factor (BDNF) increase profoundly. BDNF is like fertilizer for neurons. It promotes neuron connections, development of new neurons and enhances survival of mature neurons. This substance is produced in the brain and skeletal muscles when we exercise.
Studies have shown that exercise induces up-regulation of BDNF in the hippocampus (memory & learning center of the brain) and plays an important role in the enhancement of cognitive function. The following MRI images demonstrate the dogma that the brain does not make new brain cells is dead.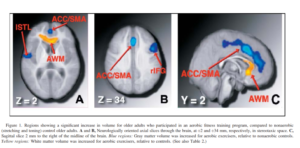 These images show enlargement of gray and white matter volume in the brains of 60-79 year olds placed on 6 months of aerobic exercise (60-70% peak exercise capacity) for one hour three times/week. This is a clear and measurable effect of how exercise helps to prevent cognitive decline known as dementia.
Interestingly, BDNF levels are lower in people with major depression and are increased when they are placed on an antidepressant known as an SSRI (think Prozac or Zoloft) or start aerobic exercise. So we can see the mechanism by which the Emotional Well-being leg of the Table of Health comes into play with the Exercise leg. This also helps to explain why aerobic exercise is equally effective as the anti-depressant Sertraline (Zoloft) in treating depression. We know that for every bout of major depression or anxiety in a person's life, risk for dementia is significantly higher later in life. BDNF is the crucial biological link between our thoughts, emotions and movement.
BDNF levels are also lower in Type II diabetics. With the majority of Americans overweight or obese and many experiencing diabetes/prediabetes lower BDNF levels are no doubt playing a role in their known cognitive decline and mood disorders. We now know that a sedentary lifestyle, high saturated fat and sugar diets all lead to lower levels of BDNF in the brain and lower cognitive functioning. This may explain why soda drinkers – which often have diabetes – have lower cognitive test scores than non-soda drinkers.
Let's talk dopamine. Dopamine basically makes us want to do things. Exercise stimulates motivation by increasing dopamine receptors and levels in the brain's reward center. Thus exercise begets more exercise and increases productivity in other areas of our lives.
In addition to dopamine, serotonin and noradrenaline are all also increased with aerobic exercise resulting in improved mood, focus and overall well-being. All of these findings have changed the educational policies of the nations Taiwan and South Korea to require more exercise for their students. The outcome? Profound improvements in academic performance and behavior at all levels.
Sweet Dreams
Now that your mood and brain is working better, what impact does exercise have on sleep? Regular aerobic exercise has been found to have moderate to strong effects on sleep latency (the time it takes to fall asleep) and sleep quality. These positive effects are quite significant. A good night's sleep is critical for brain and heart health. Less than six hours of sleep per night significantly increases the risk of dementia and cardiovascular events.
To show up fully in one's life, sleep is a must. Yet a third or more of adults are not getting enough sleep. Timing of exercise in relation to sleep can also be important. Exercise does stimulate the sympathetic arm of the autonomic nervous system. Many report not being able to sleep until a few hours after exercise. So dose your exercise earlier in the day to avoid this problem.
Take Me Home James
In this article we've been able to see how the Exercise leg improves the Sleep and Emotional Well-being legs of the Table of Health. We've not only discussed the amount and type of exercise but the impact of exercise on all cause mortality. We've explored the mechanism by which exercise improves memory and learning by helping the brain to grow new neurons with increases in BDNF. We've also looked at the effect of exercise on neurotransmitters in the brain associated with mood, motivation and depression.
The influence of exercise on our health is extensive and what has been discussed in this article is far from complete. The most important thing is to actually do it! I'll close with 20 tips to help you get started and keep going:
Do it Now!
Put it on your daily schedule.
Do what you enjoy. Have fun!
Find an accountability partner.
Hire a coach.
Set goals- chart your progress.
Broaden you choices- avoid exercise monotony by getting variety.
Connect – join a class, walking, cycling group, etc. or workout with a friend.
Listen to music.
Watch a video.
Listen to a podcast.
Spend more time with like minded people
Have indoor & outdoor options.
Step out of your comfort zone- do something different.
Commit to an event and train for it: a run, triathlon, cycling event, etc.
Buy a Fitbit or Apple Watch.
Be curious…see what you're capable of as you age.
Listen to your body- rest when you need to.
Contribute to other people's lives by setting a good example.
Change your perspective: View yourself as an athlete training for successful aging. Appreciate that exercise improves relationships and positively influences all other areas of life.
Exercise is the most transformative thing you can do for your brain. The results are immediate and last a lifetime. Better mood, sex, cognitive function, energy, productivity, physical and financial well-being are byproducts. There is an immense reservoir of potential within us. Exercise is critical for accessing it. What's holding you back? What causes you to relapse into couch potato mode? We are taught that self reliance is everything…you've probably been pretty good at it in other areas of your life, but when it comes to exercise, like all other lifestyle changes, we must look inward first and then reach out and make it more than a solo act. We can learn from past experiences. It's critical to know why one would trade a perfectly comfortable couch for something far more challenging. What does that challenge give you? The first step is to raise your hand and ask for help. It's the best investment you will ever make,
To your mind and body,
David Reed Miloy MD